MZmine 3 Architecture
MZmine 3 is developed using Java technology, therefore it is completely platform independent, requiring only Java runtime for running. One of the main design goals is to keep a strict separation between the application core and modules for data processing and visualization. Development of new modules is very easy and straightforward. Mass spectrometry researchers are welcome to implement their favorite algorithms and data processing methods using MZmine 3 framework. If you would like to contribute in any way, please contact the
developers
.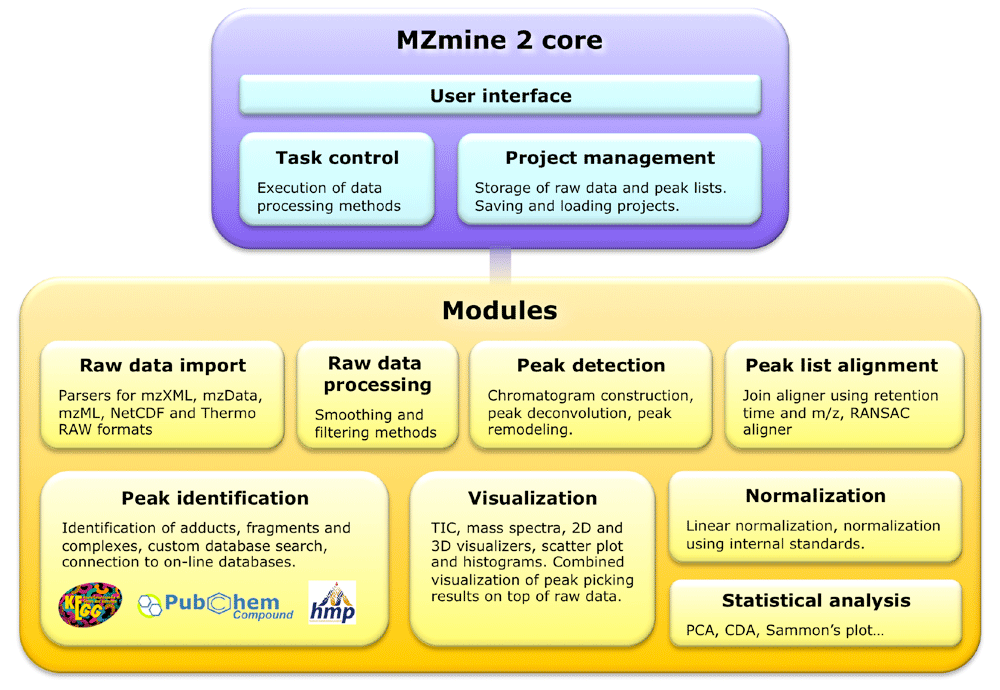 Source Code
The MZmine 3 source code is available from the
GitHub repository
. You are welcome to redistribute it and/or modify it under the terms of the GNU General Public License as published by the Free Software Foundation; either
version 2
of the License, or (at your option) any
later version
.
How To Contribute
There are several steps you need to follow in order to contribute your code to MZmine. If you are not familiar with GitHub, this might seem cumbersome at first, but you will surely appreciate the power of this workflow later. Steps 1-3 only need to be performed once, when you make your first contribution.
For more information, please check the official GitHub's documentation or ask the developers.
Please also check the Documentation section for development tutorials.
Libraries used by MZmine 3